As there are really many solutions for temperature data collection I decided to limit results with few extra requirements:
Must have USB interface for connection to Raspberry Pi, PC etc. to keep it universal.
Sensor price must be cheap as I may need about 10 sensors.
Wired sensors – I am not going to change batteries in 10 wireless sensors.
Supported distance at least 50m which is approximate cabling distance from my basement to attic with all the loops and bends.
Temperature range from -40 to +40 degrees Celsius which covers my needs in Estonia.
Supported/working in Linux, on Debian Wheezy to be exact.
I will just list few cons what I found on some products before moving on to what I selected, exactly as I did with relays.
Small number of sensors per USB socket
Expensive (some about 12EUR per sensor)
Temperature range too small (minimum -20 Celsius)
I decided to go on with 1-WIRE based technology: DS9490R USB-to-1-wire adapter and DS18B20 sensors. Why? Because temperature sensor price is only about 1 EUR and even less if ordered from China. 1-wire technology supports big range: 200-500m. There are available also other f.e. humidity sensors what can be plugged to the same bus. I don't know how negative it is but this selection requires some cabling/soldering and preferably externally powered connection hub to take the load off from the adapter and USB socket.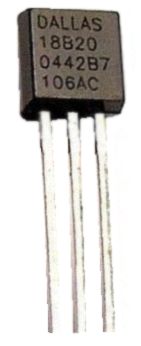 Sensors are available in original (TO-92) form as shown on image in the right and also as a ready-made probes with attached cable (claimed to be waterproof). Search DS18B20 from Ebay and you will see. If the cable length is enough you can save a lot of soldering. I used original TO-92 form sensors, cut ordinary RJ12 phone cables in half, soldered sensor to one end and connected other end (with RJ12) plug to the home made 1-wire hub which had RJ12 sockets but this is already story for next how-to.
If you found this useful, say thanks, click on some banners or donate, I can always use some beer money.